To clean gutters, repair roofs, or get something from high cabinets a good ladder is always a plus. It helps us access the heights easily and makes our daily life much easier. But the wrong way of climbing may result in a quick fall down and even in many cases, it causes permanent physical disability. Therefore, it's important to follow some safety rules while climbing a ladder. So here is my in-depth guide on how to climb a ladder safely.
How to climb a ladder safely [step-by-step guide]
Before my guides, please note that it's also important to consider what type of ladders you are using. Many users end up using the wrong one for their household chores which is so much dangerous and may result in a ladder fall anytime. For instance- you should not use a step ladder where a long extension ladder is needed, right?
So, first of all, be sure what type of ladders you need for that particular job. It's even more important than knowing how to climb a ladder. However, below is my step-by-step guide for you.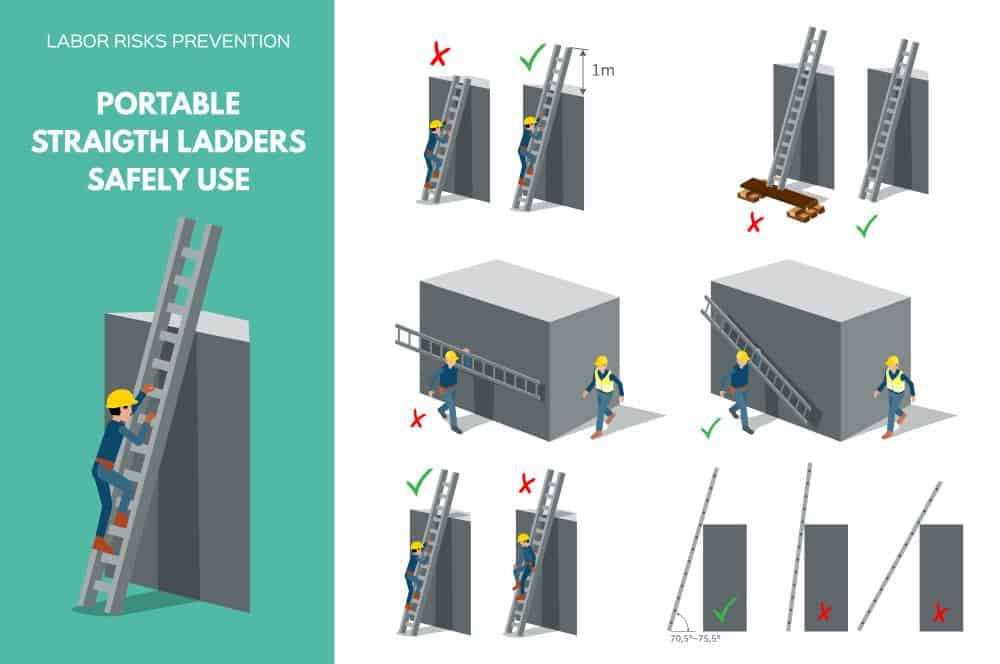 Find a quality ladder
If you want to stand safe on the ladder the first and foremost thing you need is ensuring a stable ladder. No other safety gears help you if the ladder itself is low quality. There is a bunch of good ladders out there, you just need to find the right one.
But the truth is finding a good quality hefty ladder isn't that much easier because numbers of brands are selling ladders and claim them as the best. So it's always confusing that which ladder is the best for you.
Therefore, we have analyzed the market and put all the quality ladders together so that you can quickly and easily find your one. Here is our A-Z ladder list, please check.
Ensure proper ladder angle
Maintaining an ideal ladder angle is another big factor to consider while climbing ladders. Leaning your ladder at a 75-degree angle makes it more stable and sturdy to climb. For example- if the ladder is 16-feet long then the vertical distance between the top and bottom of the ladder should be at least 4-feet.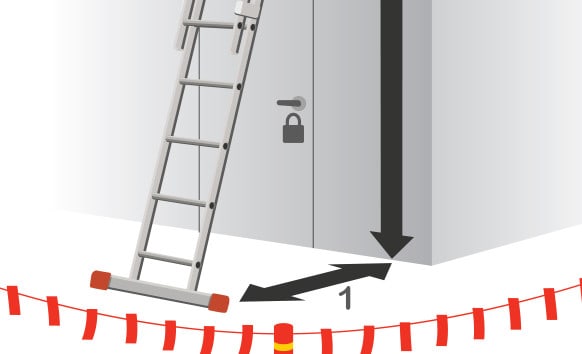 In a nutshell, ¼ of your ladder is to be angled. Another way of ensuring proper ladder angle is holding the ladder rungs with your both hands. If you can hold the rungs easily in a relaxed position then the angle is perfect.
Use necessary ladder accessories when climbing
It's also advisable to try necessary safety accessories while climbing any ladders. The top 4 most important accessories are-
1. ladder levelers
A ladder leveler could be a lifesaver while working on uneven grounds like sloppy roofs or stairs. The ladder's feet are even whereas a sloppy roof or stair is not, so how can you make your ladder stable to climb, right? That's where the ladder levelers come in handy.
Therefore, I also have a resourceful in-depth post on the best ladder levelers and their safe use. You may also want to check that out.
2. Ladder stabilizer/stand-off
A ladder stand-off/stabilizer is just a small piece of metal specially designed which keeps the ladder more stable and firm to climb by adding an additional layer of safety.
I highly recommend using a ladder stabilizer while going to clean gutters or getting on roofs. Check out my in-depth guide on ladder standoff.
3. Safety straps
None can guarantee that he/she won't fall from ladders even after taking all the safety measures. There is always a chance to face a ladder fall due to so many unknown reasons.
So it's wiser to use heavy-duty safety strap so that you can still be safe even when something goes wrong. Here is my top recommendation for a heavy-duty fall protection strap on Amazon.
4. Proper shoes
A good quality shoe also adds some real values while climbing ladders. The low-quality cheap shoes may cause the feet to slip around and eventually you may fall.
So before climbing any ladder, put on high-quality shoes. Also, try to avoid barefoot climbing. Check out my recommended shoes on Amazon.
Avoid loose clothing
Lose clothes may get stuck with ladder corners or with any other tools around which is also responsible for ladder accidents. So put on tight attire while climbing ladders. It's worth it.
Learn how to climb a ladder with 3 points of contact
Let's put some inputs on how to climb a ladder with 3 points of contact because in most cases, it's underrated. You should always move one hand or one leg at a time while climbing ladders, it's risky to move both at the same time.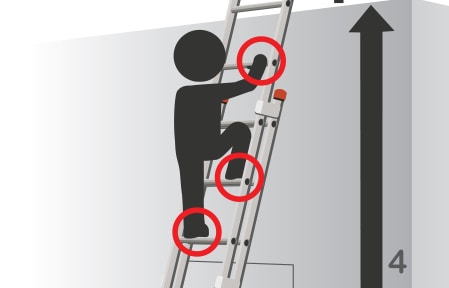 In short, you must maintain 3 points of contact with the ladder while climbing. On top of that, it's also important to climb only one rung at a time. You may want to climb two rungs at a time while in hurry but that's very self-destructive action you've ever taken. Learn more about it from here.
Be careful about the terrains
The type of grounds you are placing your ladder on is also a matter to reconsider. It's always important to avoid uneven and slippery grounds. If there is no other option available then use ladder levelers or other safety accessories to stabilize the feet of the ladder.
Tie-off top portion of the ladder before climbing
Maybe you are going on the roof or maybe it's time to clean your gutters, whatever it is, it's always advisable to tie-off the top of the ladder with strong support before you come to climb on it. It's even more important when going to access big heights. Otherwise, the ladder may flip around or topple. You can use snaplocks safety strap to securely tie-off the top of your ladders.
Don't climb on top 2-3 rungs
Please note- climbing on top 2-3 rungs of the ladders may cause a real danger immediately. Always try to avoid climbing on top 2-3 rungs, especially when climbing on the roof or climbing down a ladder from a roof.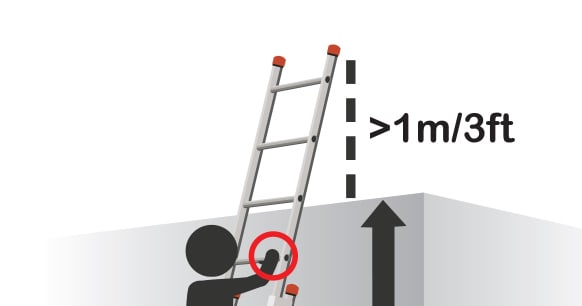 How to climb down a ladder from a roof
Not only it's important to avoid the top 3 rungs of the ladder but also it's mandatory to keep the top 3 rungs above the roof level, else there is a high possibility of toppling or flipping around.
How to climb a rope ladder?
Climbing ladder rope is comparatively trickier and requires more practice. I don't recommend you to climb ladder rope initially unless it's an emergency. you can learn more about it from goneoutdoors.com
Conclusion
Climbing on ladders like a pro always requires some practices and techniques to follow. But if you follow my guidelines above and stay conscious enough on the ladder then you no longer need to worry about the ladder fall. You can also read more about ladder climbing from here.
So I think, all of your confusion related to how to climb a ladder is resolved. If you still have questions then don't hesitate to leave a comment below in the comment section, I'll try to reply to you asap. Wish you a safer ladder-climbing experience.