Let's face it, have you ever tried painting stairs using the wrong ladder? Kinda hard right? Makes sense because ladders come in different types and for serving different purposes. Hence, for painting staircases, what you exactly need is a perfect ladder for painting stairs. So what are the best stair ladders in the market right now? Stay with me because I've compiled the 9 best stair ladders that are very sturdy to use. Keep reading because I'll talk about their features, pros, and cons. So without any further ado, let's dive right in.
Just a second, do you use a ladder leveler while painting walls or hanging something above the stairs? if not, then it's a huge mistake. A ladder leveler helps you adjust the height of the ladder legs while it's on uneven ground like stairs or sloppy floors. I also have a handy review of the best staircase ladder levelers, check it out.
Top 9 Best Ladder for Painting Stairs – Reviewed
1. Little Giant Velocity M22- (#1 pick for painting stairs)
Little Giant Velocity M22 is a ladder that's great for painting on stairs and for painting highly elevated stairs. It's frame measures 5.1 feet. Still, you don't have to worry because it's extendable up to 11 feet.
You can set this ladder in A position and upright position. Additional features include a dual-pin hinge for easy setup and rock lock for seamless adjustment.
This product is a very versatile ladder. You can use it as a 90-degree ladder for painting walls, an extension ladder for painting elevated stairs, and an A-frame ladder.
You may also opt to buy the additional trestle brackets and use Little Giant Velocity M22 as a trestle-and-plank scaffolding.
Pros:
Not only good for painting stairs but other projects
Comes with a glide wheel for easy transport
Uses aerospace-aluminum grade construction for stability and durability
Cons:
Takes a while to make sense of its features
The additional trestle brackets aren't installed by default
Might have some defects
2. Louisville Fiberglass Twin Ladder
This product is perfect for painting unfinished stairs. Louisville Fiberglass Twin Front Ladder is an A-Frame ladder installed with a raptor boot on its feet to prevent slipping. Also, a pair of spreader braces hold the rails to prevent damage and sudden collapse.
This ladder may come in 4 feet to 16 feet varieties. Louisville Fiberglass Twin Front Ladder has a maximum carrying capacity of 375 pounds so it's an ideal ladder for heavy users.
Pros:
uses 4 raptor boots for stability
Has spreader braces for preventing the excess weight from damaging the rails
Comes in various sizes
Cons:
Non-adjustable a-frame ladder
Can't be used for painting on top of stair
Stop cap needs a redesign
3. OxGord Aluminum Collapsible Multi-Ladder
Aside from being suitable as a ladder for the painting above stairs, this product is also suitable for building attics and bunk beds. Furthermore, this product is also suitable for installing objects on the roof or side of large vehicles.
OxGod Aluminum Collapsible Multi-Ladder comes with at least 6 hinges. These 6 hinges allow users to set up this product as an A-Frame ladder, upright/extension ladder, stair ladder, and articulate ladder. In a nutshell, you can always adjust this ladder as per your needs. For more in-depth details about adjustable ladders, read our resourceful reviews of the top 10 adjustable stair ladders.
Pros:
4 in one ladder
Foldable and may be stored in different ways
Lightweight and corrosion-resistant aluminum construction
Cons:
Wobbles a bit when used as an extension ladder
Doesn't allow for quick and easy setup
Uses a poorly designed base/feet
4. Werner MT-22 Ladder for Painting Stairs
This is one of the stair ladders for painting the wall at the side of the staircase. Both of its rails are extendable. Thus, one can be set up shorter or longer than the other to allow for balance if you choose to put this ladder on top of the stairs.
Manufacturers designed the steps of this ladder to provide more friction. Therefore, it prevents slipping just in case the sole of your boots or shoes gets wet. Werner MT-22 may be used as an 11 feet extension ladder or 5 feet stepladder.
Pros:
Has soft-touch push knobs for hassle-free setup
Non-slippery footholds or steps
Can be used as an extension ladder and step ladder
Cons:
The steps don't allow for comfortable positioning of the feet
A bit heavy and would have been better if the has collapsible wheels
300-pound ladder but not very stable when bearing a lot of weight
5. Cosco Aluminum Telescoping Multi-Position Ladder
Cosco Aluminum Ladder is as versatile as OxGord Aluminum Muli-Position Ladder. The original Cosco hinges allow users to set this product into a step ladder, scaffold, extension ladder, and stairway ladder.
However, the best feature of this product is its slip-resistant rungs and feet. Furthermore, users will love that this product configures to any position without tools and folds flat for efficient storage.
Pros:
Slip-resistant rungs and feet
Can be configured into 4 different types of ladders without tools
Folds flat for efficient storage
Cons:
Feels bulky even when folded
Needs extra hinges for easier setup
Prone to rusting when wrongfully kept
6. Little Giant M17 Ladder for Painting Stairs
Little Giant M26 is the perfect ladder for painting hall stairs and stair landings up high. This product uses a set of very innovative hinges that deem the use of spreader braces unnecessary.
As a result, Little Giant M26 can be placed on any position or location. Also, the ratchet leveler allows this ladder to become stable in uneven surfaces.
This product comes with trestle brackets by default to you use it as a trestle-and-plank ladder aside from a stepladder, extension ladder, and 90-degree staircase ladder.
Pros:
Can be used on uneven surfaces
Doesn't use spreader braces
Ideal ladder for painting elevated hall stairs and stair landings
Cons:
Non-slip free base or feet
Heavy and hard to hold
Not suitable for one man use
7. Louisville Sawhorse Ladder
Louisville Sawhorse Ladder is perfect for painting on top of stair landings. Furthermore, it's a good ladder to paint stairs that are waist-high. The look of Louisville is pretty straightforward.
It's very elegant and doesn't have a lot of embossments or unnecessary installments. The double rivet step construction, sturdy spreader braces, and rubber feet ensure safety while you're using this ladder.
Overall, this ladder isn't very versatile or long, but it might be what you need for painting the stairs of kiddie forts and other small building projects.
Pros:
Lightweight and portable
Has an elegant and clean design
Very stable and friendly on the feet
Cons:
Takes a bit of storage space
Has a white coating that gets stained easily
Would have been better if the top cap have rubber pads
8. GP Logistics Compact Folding Ladder
This is a stair ladder that's perfect for painting on top of stair landings. Aside from this, the GP Logistics Compact Folding Ladder is useful for painting stairs that are elevated at 8-15 feet high. This product is not a multi-purpose stair ladder.
However, it only weighs 22 pounds. Thus, its a lightweight ladder that suits men and women of all ages.
Pros:
Type II commercial folding ladder
Meets ANSI and OHSA standards
Folds smoothly
Cons:
Non-collapsible and takes storage space
Can't be used on uneven surfaces
The steps are narrow and need improvement
9. Vulcan Multi-Stepladder
This ladder features 23 possible configurations that help you to paint stairs, install paintings and lightings, and paint walls while on top of stair landings. Aside from stepladder, Vulcan Multi-Stepladder can be used as an extension ladder and stairway ladder.
Vulcan Multi-Stepladder has rails that you can adjust in 1-foot increments. Furthermore, it features a wide base design for additional stability.
Pros:
Wide base for stability
Very versatile
Comes with adjustable rails
Cons:
The hinges aren't very reliable
Doesn't have an anti-marring base and rungs
Bulky even when collapsed or folded
Conclusion
Painting stairs is easier while using the right ladders. They help you avoid making costly mistakes. But remember, having a good ladder is not always everything to avoid risks or ladder falls, you must follow some safety tips and tricks additionally while using it.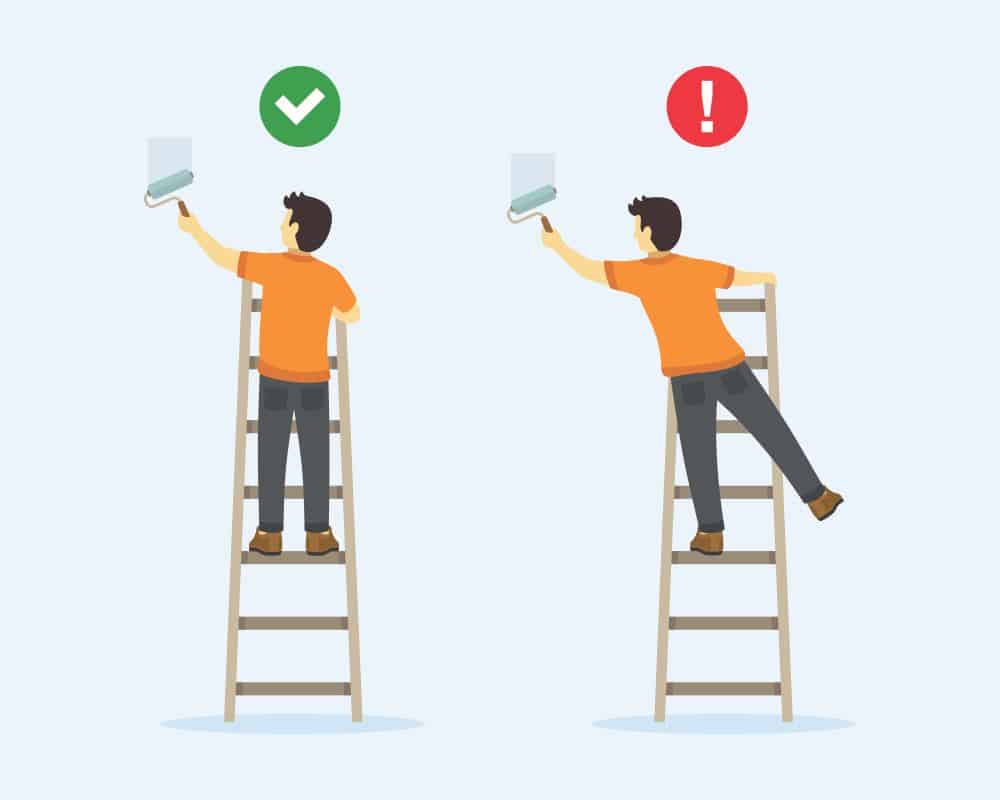 Remember that the best stair ladders for painting are multipurpose. If they're not multipurpose, they should be at least lightweight and easy to transfer from one location to the next. All the items that I listed here have such traits. That said, check them out and see for yourself!