Ladder accidents are as discreet as burglars in the night. You never know when it's going to happen. You're just working normally – cleaning the gutters, fixing the windows, or building scaffolding – and then crack! Without warning, the ladder skid or fell apart due to faulty components. So it's important to inspect your ladders before you use them. But the most common question is how often should you inspect a ladder?
The ideal ladder inspection practice is to inspect it every time before you go to use them. But the checking frequency is connected to how often you use them.
Are you using ladders once a month, twice a week, or every day? Did you ever think of checking as frequently as you're using them?
How do you properly check the ladder for defects? What are the signs of a defective ladder? I'll give you the answers to these questions here.
Related post- how much does a ladder cost?
How often should you inspect a ladder?
You should check the ladder every time before you use it. Never use the ladder without checking its footing, steps, screws, and other important components.
Most users get on the ladder without checking. And by this habit, they're risking themselves to numerous accidents. But aside from yourself, you should let someone knowledgeable check your ladder every 1 or 3 months.
Inspection isn't only for ensuring that the parts of the ladder are still working. It's also for determining hazards such as cracks, rusted frame, loose steps, and bends.
How often do ladders need to be inspected? Here's my answer to the question of ladder inspection frequency:
Users should check every time before they use the ladder.
Users should find a ladder technician and let him check the ladder every 1-3 months to look for hazards.
Besides proper inspection, it's also important to have a good quality ladder which you can confidently rely on because I've seen many cases where a new ladder crash suddenly due to poor design and materials used.
So be aware of purchasing any random ladders. You can check out my recommended ladder here, it's good in quality and affordable as well.

How to systemize ladder inspection?
A ladder inspection checklist helps to systemize ladder inspection. By systemizing, you'll check the ladder thoroughly. It helps you determine the specific considerations during the ladder inspection procedure.
Here are some of the questions that your inspection checklist should have.
Check the joints, near the side rails and steps, are they tight?
Are bolts, screws, hinges, and rivets not loose?
Are the steps free from shaking or wobbling?
Is the footing of the ladder not prone to sliding?
Is the ladder free from dust, rust, and grime?
Does the ladder shake when it's being used?
Ladder inspection requirements may vary from user to user. But the questions above are the general considerations. Memorize them and come up with your own. You can also read more here.
Which Components Do You Inspect in a 28-Feet Extension Ladder?
Of all ladder types, extension ladders need the most attention. Extension ladders are high-risk ladders due to their long reach. Also, their components wear easily because of their extendable design.
The first component to check on extension ladders is the footing. Make sure that it's not worn out or thinning. Worn out footing isn't ideal. If the footing isn't working well, extension ladders might crash down.
The next component is the lock that fixes the extended length of the ladder. In most extension ladders, there are to fixing locks. If these aren't in good condition, the extension ladder might collapse while you're on it.
Next is the sliding mechanism of the extension ladder. The sliding mechanism allows for a smooth transition from one length to the next. If it's broken, the extension ladder might get stuck and you'll have a hard time extending it. Oil the sliding mechanism at least once a month so that it won't rust.
Finally, you have to check the steps of the extension ladder. Put importance on checking the steps of the extendable part of the extension ladder. Due to frequent sliding, it's not surprising that the extendable portion's steps loosen.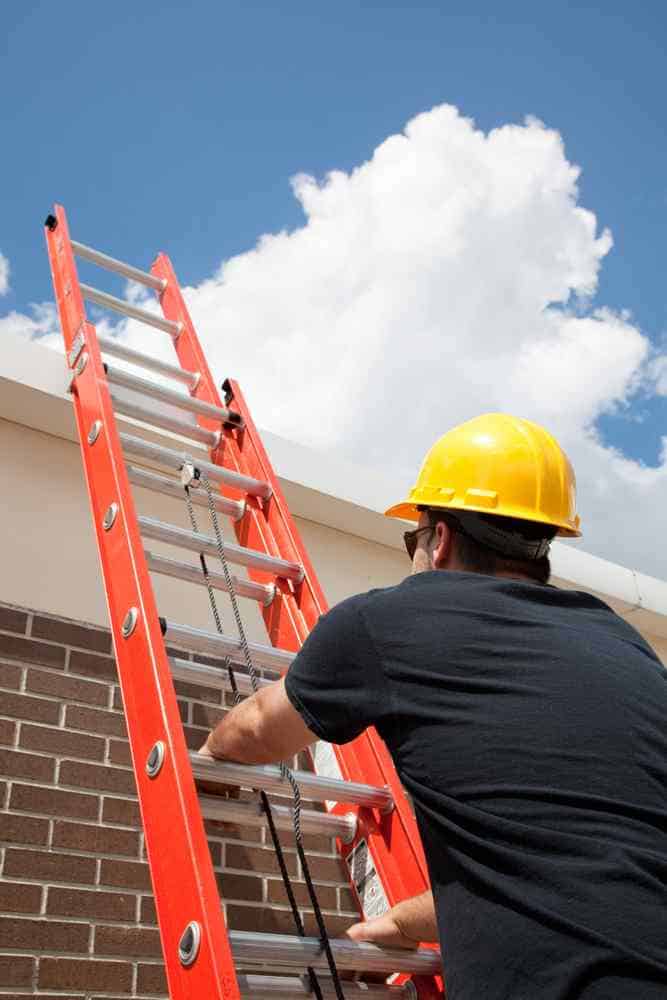 Conclusion
Faulty components comprise a lot of ladder accidents. For you not to experience such misfortunes while using a ladder, you only have one simple thing to do. That is to check the ladder as frequently as you can. You can read more about it from americanladderinstitute.org.
So I believe that your confusions about ladder inspection frequency are resolved. If you believe that I've missed out on any point of ladder inspection procedure then lemme know.
You can simply leave a comment below in the comment section. I'll really love to listen to you.
So today, that's all about ladder inspection. Have a safer ladder-climbing experience.