Everyone recognizes aluminum ladders: lighter, more practical, less demanding, and easier to maintain. Moreover, Aluminum ladders are often used in high-rise work because they are reliable and safe to use. Despite the structure's low weight, each step has designed for a load of up to 150 kg. The combination of ease of use and good performance makes them in demand when performing high-rise work in private houses, office premises, and industrial facilities.
Main Advantages of Aluminum Ladders
Ladders, for the manufacture of which aluminum has used, are lightweight and compact. And the simple and convenient design allows you to fold the ladder without much effort. Here are the main advantages of such aluminum ladders:
Insignificant weight. This allows you to transport the product without problems;
The simplicity of design. The ladder is easy to unfold and fold;
Versatility. Aluminum stepladders can be used both indoors and outdoors;
Security. The product has a reliable design that will not let you down at the most crucial moment;
Anti-corrosion properties. A special layer that covers the ladder protects it from rust;
Affordable cost.
How long do Aluminum ladders last?
There is no end age of aluminum ladders. They can last for a very long time if certain requirements.
Don't exceed the recommended load
Aluminum has used for ladders for a reason. It successfully combines strength and lightness. Even under significant loads, products made of such material do not deform and retain their shape. Therefore, aluminum ladders are of high quality and reliable. However, if the recommended loads are exceeded, deformation may occur. But, if you follow the operating rules, this will not happen.
Don't keep it outdoor for a long time
It is an amazing quality of aluminum that does not get rust. As the aluminum ladders are very beneficial and suitable for all the works that are out of the house. Less struggle has required to keep it safe for a long time. But, to be on the safe side, do not keep it outside of your home.
If something heavy hits the aluminum ladders, such as a hammer or bricks, it can be the reason for cracks. These cracks will lead to the deformation of aluminum ladders.
Wood is an extraordinary material, but unfortunately also very sensitive. A wooden ladder must be protected from moisture and weather; it must be periodically repainted and sheltered in suitable places. On the other hand, an aluminum ladder can get wet, is resistant to corrosion and rust. You can forget it in the rain, or you can store it in an open place, where it is exposed to moisture – and nothing will happen!
Handling of Aluminum ladders 
It is worth noting the mobility of aluminum ladders, which cannot be said about models made of other materials. To transfer an aluminum product, you do not need to make any special efforts – even a child can do it. The folded product fits freely in a car, so there are no problems with transportation. The anti-corrosion coating reliably protects the stairs from the negative effects of external factors, due to which the stairs have a long service life.
Reliability and safety are inherent in aluminum ladders. Steps ensure this with an embossed surface to prevent slipping of the feet. Also, the ladders can be additionally fixed, which increases the product's stability, making it as safe as possible in operation.
Having appeared on the market not so long ago, aluminum ladders have become very popular. The popularity of wood products and other materials gradually faded away. They began to be used less and less and gradually practically disappeared from stores. After all, they could not compete with practical and reliable aluminum models, which surpass them in many ways.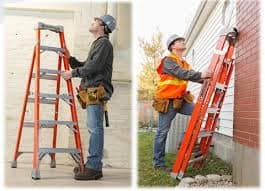 Even though aluminum ladders are empty inside, they are robust enough to withstand significant loads. Along with this, the products are lightweight, so one person is enough to carry them.
How to increase the life Expectancy of aluminum ladders?
Before using aluminum ladders, you should study their technical parameters. Each product's use requires a post-use appearance check to help identify deformed areas, breakages, and malfunctions. In order to avoid loss of strength and stability, it is necessary to monitor the structure's correct extension. If there are locks (for example, in telescopic models) during the stairs' operation, they must be closed – so a person is not injured.
Rules for the operation of aluminum ladders:
People can use the ladder outdoors in good weather conditions.
The product should not experience a load exceeding the permissible value.
When going up and downstairs, the person should be facing it.
Work at heights using a ladder should be having short-lived.
If the staircase is a 3-section, then the three upper steps cannot be used as support ones (you cannot stand on them).
Safety Rules During the Operation
Compliance with all safety rules during the operation of aluminum ladders will avoid injury and ensure high-rise work performance. For this, the structure's stability should be checked – the surface on which the product is installed must be solid. This is one of the conditions that guarantee the reliability of the structure. Upon completing the work performed, you need to wipe the ladder – this will remove various dirt (paint, dust) and keep the ladder clean. Thus, the product will last much longer than the recommended service life. After all, if the surface remains contaminated, this becomes the reason for the ladders' premature failure.
Do not need special care
Aluminum ladders have not chosen by chance for high-rise work. They have successfully combined lightness, compactness, safety, and practicality. At the same time, the ladders are easy to use and do not need special care. Aluminum models are in demand not only for home use – with their participation, but people also perform various work types at production facilities, during construction, and repair. People widely use such ladders in industrial, transport, and other organizations.
Most Reliable and safe
When buying a ladder which has made of aluminum, everyone considers the peculiarities of the work (at what height the actions we will perform, etc.), as well as personal preferences. Therefore, it is simply impossible to single out any one universal model. Each of them has its own advantages, the model's shape and maximum height will determine it. However, all-aluminum ladders are reliable, stable, and safe. And these are exactly the qualities that a ladder should have for a person to feel as confident as possible, regardless of the height at which he performs the work.
What is the difference between the manufacturing materials (wood, aluminum, or fiberglass)?
The advantage of wooden ladders (as long as they are dry and clean) and fiberglass ladders over aluminum ladders is that those made of the first two materials DO NOT CONDUCT ELECTRICITY. In contrast, aluminum ladders are HIGHLY ELECTRICITY CONDUCTIVE. On the other hand, aluminum ladders are extremely light, which greatly facilitates their handling and transport. They are also more resistant than wooden ones ( as compared to fiberglass ones, they have similar resistance). Aluminum ladders and fiberglass ladders cost more than wood ladders.
Fiberglass ladder X Aluminum ladder
Today we bring a comparison of two models of ladders. It is possible to compare them for different purposes: the fiberglass ladder and the aluminum ladder.
We know that these two models of stairs are for different purposes. The first with the main audience of painting professionals, installation of taller objects. And the second is for the simplest, domestic services and far from those who make money by risking themselves hanging from a ladder
How long do both ladders last?
Although both materials are resistant to corrosion, screws, rivets, bolts, and plastic parts are also part of the product and have a useful life, which is often not the same as the rest of the set. The run of fabric that holds the two parts of the ladder can fray and wear more easily than a metal hinge. There is no way to lubricate a fabric since a drop of oil greatly reduces the hinge's friction, ensuring greater durability.
Ladder and electricity? Never use an aluminum one
It is famous that using an aluminum ladder for electrical maintenance is much riskier than a fiberglass ladder. Since the first has made of conductive metal, and the second is insulating. So, if you need a service ladder that involves electrical energy or close to electrical power wires, NEVER uses aluminum ladders. The risk of electric shock is great and often fatal.
Conclusion:
Have you decided that an aluminum ladder is exactly what you want due to the many advantages it has, compared to ladders made of other materials? Following these few rules, the aluminum ladder which you have just purchased will be your best friend for a long time in any activity. Good luck with that!