Let's confess it, the elderly love to keep themselves busy at home, right? They like to do a few household chores, such as- changing bulbs, hanging paintings, or decorating walls. There is no doubt, it's a good idea to allow them to handle a few jobs here and there so that they do feel useful around the home and don't get bored. However, you need to make sure that they are doing it safe, and using the right tools for their jobs. One of the tools is safety step ladders for seniors with the highest safety measures. So here is the 11 absolute best step ladder for elderly. Now you can confidently pick any of them. Let's start.
1. Best Choice Products 4-Step Safety Step Ladder
The Best Choice safety step ladder presents an excellent accessory for your elderly. The step ladder is loaded with great features to protect your seniors as they work on heights. The step ladder comes with a great and sturdy design which is perfect for use indoors and outdoors.
The step ladder is also designed with a locking mechanism to prevent the ladder from moving while working. It also comes with metal crossbars and four non-slip steps for stability.
2. Little Giant Step Ladder 10410BA
The four-step safety ladder from the little giant ladder system is a great ladder for the elder thanks to its outstanding features. The ladder is designed with extra-wide steps which are designed with skid-resistant treads. The safety ladder is suitable for commercial and industrial use by seniors.
The top of the ladder has a handle to facilitate carrying around from one place to another. The tip and pull wheels also aid in movement.
3. Charahome 4 Step Safety Ladder
Everything about this ladder screams safety for your elderly. The ladder comes in an easily foldable design, meaning you can store it in small spaces in your garage. The ladder has a 4-step maximum height, which is suitable for both indoor and outdoor use.
The step ladder also comes with long, padded side handgrips on either side to provide comfortable security when needed. The steps are also extra wide for stability.
The step ladder also has an attachable tool bag where you can place all your accessories and equipment while working.
4. Little Giant Ladder Systems-Jumbo 11903 3 Step Ladder
Little Giant is a go-to for all types of the ladder, including a safety step ladder. This design features durable, high-quality industrial aluminum material. The safety ladder is also very light and portable.
The top rail of the ladder provides adequate space to place tools and equipment for work.
The safety ladder is designed to provide security for the elderly while they work. The ladder is designed with high-quality material, which can hold up to 375lbs.
What's more, the ladder also has extra-wide steps with deep treads to prevent falling and skidding.
5. Livingsure folding safety step ladder
A suitable ladder for the elderly should be one that features a very sturdy design to support adult weight and also to be used for a long time. The four-step safety ladder from Livingsure is one such ladder.
The ladder is also designed with extra features for old folks that still want to fix a few gutters and windows around the house.
This safety step ladder is designed with extra-wide steps for comfortable standing throughout the time it's being used. It also comes with side handle grips which provide stability while climbing onto the ladder and getting down from it.
6. Dporticus portable 4 step ladder
This step ladder comes with four extra-wide step ladders, which are designed for stability. The steps are wide enough to accommodate the feet for a stable step. They are also designed with slip-resistant rubber material to ensure that your elderly can stand firmly without falling.
The top of the ladder is also designed with a handle to which the elderly can grab on while carrying to avoid lifting the whole ladder. The safety step ladder comes in a foldable design to take up the least storage space.
7. Little Giant 10210BA
The little giant safety step ladder comes in a two-step ladder with safety rails, the handrails on the stepladder coupled up with metal blocks provide a place for the elderly clutch on while using. The ladder also comes with a safety bar for additional safety.
This makes the elderly feel safe while using them since they are not too far from the ground.
8. Flip-N-Lite 15272-001
If you are looking for a step ladder that is built for comfort and stability, you are the right place. This safety step ladder comes with super-wide steps which are designed with an anti-slip rubber material.
The ladder is lightweight but sturdy to support up to 300lb with the type IA rating. The ladder is easily portable with minimal effort because of its slim profile.
9. Little Giant 10310BA 3-Step Ladder
Little giant safety step ladder guarantees security thanks to its wide steps, which can accommodate standing for a long time. The steps of the ladder are also made with an anti-slip material and deep treads, which guarantees safety while working for elderly champs.
If you are worried about space, this step ladder is foldable into a slim profile to take up very minimal storage space in your garage. The ladder can support 300 lbs. weight capacity.
10. Cosco 11880PBL1E- Ladder
Its recommended to look out for step ladders with a certification for your elderly. The Cosco three-step work platform is certified and meets all ANSI standards for a type 2 medium household heavy-duty rating of 225lbs.
The step ladder is very easy to use, thanks to its portability and foldability. You don't need to stress storage space as the ladder folds into a thin slim tit design.
The ladder also comes with a convenient tray for holding tools and any materials that may be a burden.
11. KingSO 3 Step Ladder
KingSO safety step ladder ticks all the boxes when it comes to the features you are looking for in a step ladder for the elderly, the step ladder comes at a reasonable price but still maintains high-quality standards. The step ladder has a heavy-duty rating of 330 pounds maximum.
The handle grip also feels comfortable even after a long time. The design of the step ladder comes with non-marring and skid-resistant shoes, which ensure that all your floors and the user are safe.
Special-note: Are looking for any specific step ladder? if yes then we have something more specific for you. Check out our handy reviews on the best step ladder for kitchen of 2021.
Why you need the best step ladder for elderly?
Seniors are delicate, and ladders are definitely not the best for them. Although they insist on handling some handy works like cleaning the gutters, painting, wiping windows, and maybe getting the jar of olives from the top shelf for themselves or maybe performing some small household tasks, whatever they are, getting on ladders can pose an immense danger for elderly people.
Most older adults are prone to old-age diseases and weakness of muscles. There are diseases such as arthritis which take advantage of old age to attack, and they have an effect on their balance.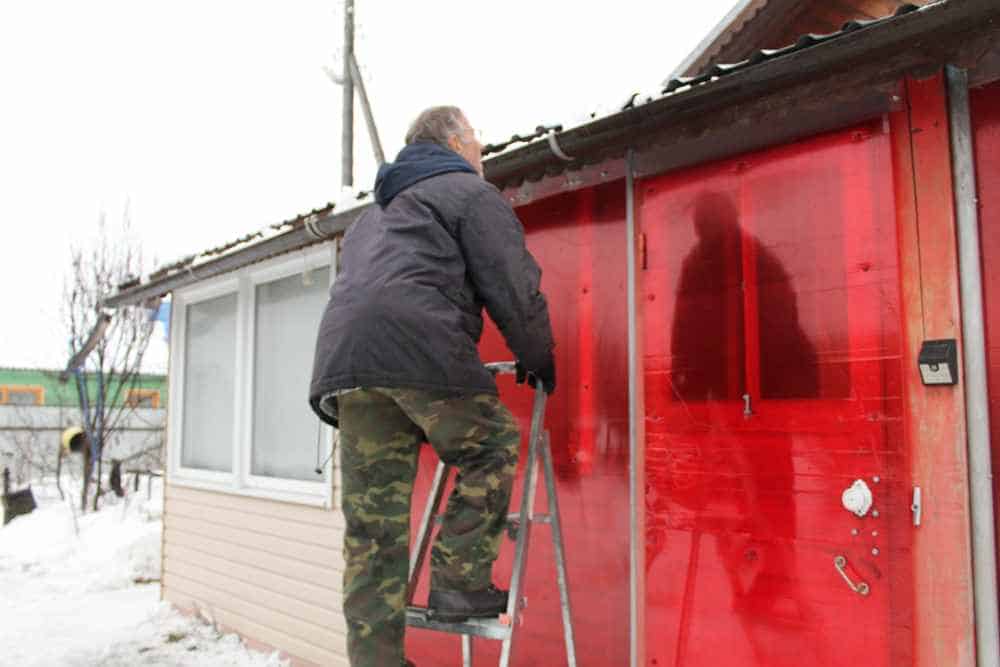 Step ladders are very convenient and easy to use. However, there are many step ladders, and not all of them are precisely safe for the elderly. Safety ladders for seniors are designed with a focus on the balance and great foundation to ensure that seniors are safe to climb on them.
Studies have shown that at least 300 people die each year due to ladder falls, and up to 164, 000 emergency injuries in the US occur because of ladders.
The safe ladders for seniors help them to feel safe as they work on different chores that require height.
Benefits of step ladder
There is a bunch of ladders in the market that are cheaper and easily available. You can also pick any ladder for sale and take it home. What we cannot deny is you can use it to reach heights, but is it really safe for the elderly?
Here are some reasons you should use a safety step ladder instead of conventional ladders.
Safety- height can be scary for anyone and even more for the elderly who have a problem with their muscles and balance. The ladders are designed to provide extra support thanks to features such as locking springs that keep all the parts stationary while in use and spreader locker and crossbars that prevent spreading of the A-frame ladders. Safety step ladders for seniors also comes with anti-slip shoes and a tetra-pedal rail system that are put in place to prevent tilting and sliding.
Convenient- seniors have a tendency to lose their balance, mainly because they have weakened muscles. The elderly also have slow reflexes, which make it easy to fall off ladders. Step ladders for seniors are convenient because they come with more handgrips and rails to grip on while climbing the ladder. Step ladders for seniors generally have more parts to grab onto in case the user loses balance.
Comfort- if you have observed older adults, they experience a problem taking the stairs, especially those that are very high. Safety step ladders are specially designed with a smaller space between steps, unlike the space between rungs in a conventional ladder for comfort. A safety step ladder for seniors also has extensive steps which are designed with rubber surface for safety and to provide enough space to balance comfortably.
Lightweight- seniors are not the strongest since their muscles have started to waste away. The best step ladder for the elderly is designed with handles to grab while carrying. The handle also ensures that the elderly do not need to carry the whole ladder while moving from one place to the next. They are also very lightweight to facilitate portability.
Carrying platform- one thing that causes accidents is having to balance tools on your hands while working. Safety step ladders are designed with a tray at the top to keep your items and tools. This way, your elderly don't have to bear any burden while working other than stay on the ladder and balance.
How to choose safety step ladders for seniors?
Handrails- safety step ladders for seniors should have handrails to climb up and down. The handrails should either be on the sides too on the top so that seniors have something to grab onto while climbing.
Weight capacity- you need to ensure that the step ladder of your choice is designed with a duty rating, which is more than your weight. If the maximum weight capacity of the ladder is below your senior's weight, there are chances that they will fall to they will be in danger when carrying tools or items for use.
Durability- a safety step ladder for the elderly should be made from durable materials. An aluminum step ladder will be ideal, especially if the older person lives alone and has nobody to hole the ladder in place for them to climb. The ladder should also be lightweight since seniors have reduced strength and weakened muscles. Look out for models that are stainless, waterproof, rustproof, and portable.
Step size- the reason convectional ladders are not recommended for the elderly is that they have very thin. These rungs are only fit for experts and can pause a grave danger for the elderly. Safety step ladders come with bigger step sizes and smaller gaps. Bigger steps are essential to prevent tripping. Every step is supposed to be bigger than their feet, so they will not stumble either forward or sideways.
What is ladder safety?
Ladder safety is one of the most important issue for handymen or any other persons who perform any small tasks around the house. But we've found that ladder safety is often under valued that may result in serious injuries any time.
So here are some tips that can help you a lot from being prey of ladder injuries. We recommend to read it carefully before you go on any ladder next time.
It's always advisable to inspect the ladder before you step on it, a broken ladder increases the chance of injuries.
Never forget to use ladder safety gears like ladder stabilizer, hooks, levelers and some others depending on the incidents.
It's highly advisable to maintain a 3 point contact with ladders. (one hand with legs or 2 hands one leg at a time) and always keep facing the ladders.
In case of electrical hazards, avoid using metal ladders near to exposed energized power wires. But you can bypass this issue by using a ladder covered with plastic layer. This is the most important place where accident mostly takes place. So you must be more and more careful in this place.
The ground where you place the ladder should not be slippery or even uneven. Also, ladder rungs and steps must be free from slippery materials. It's an another common scenario where ladder safety gets screwed.
Don't place ladder on insecure stuffs like boxes or barrel to get extra heights.
Never put ladder so close to the wall or others, maintain minimum 3 meters of distance to make it secure.
Avoid moving ladder while the handyman or any object is on that, it's highly risky.
We hope that if you follow all these guidelines carefully then you will avoid ladder injuries. The american ladder institute suggested not to use ladder in storm or heavy winds, also not to climb ladder while someone is dizzy or prone to losing self control.
Furthermore, they also have mentioned that only one person should climb ladder at a time unless the ladder is specially made.
What is the safe angle for a ladder?
A ladder is a lifesaver, at the same time it can be cruel enough to make you disabled. No matter what types ladder you are on, almost no ladder support itself. So you must follow some basic rules and regulations while using ladders.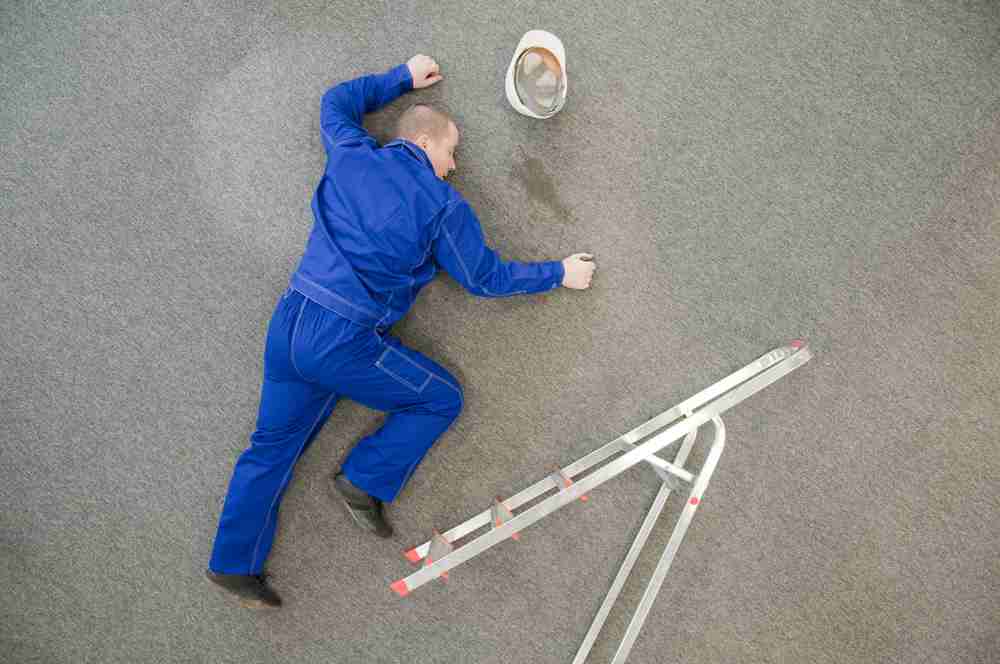 The rules of thump to follow is to keep 75 degrees angle. If I tell more clearly, it's called 1-to-4 ladder rule, meaning that a quarter length of a ladder should be in angle.
In short, if you are have a ladder 10 feet off the ground then it must be angled by 2.5 feet. If you would like to read more about ladder angle then visit hunker.com
What is the best way to make sure that a ladder is secure and won't slip?
Ladder slipping is just another major reason for injuries, so you must be more and more careful while getting on any ladders. There is a lot of reasons a ladder may slip but there are some common reasons those you must keep in mind as a handyman.
Never place ladder base on a uneven ground, always put it on even and clean place.
Avoid putting ladder base on any boxes, barrel or any unstable objects to gain extra height.
Understand your job then select ladder keeping that actions in mind, for example- if you are planning to reach high cabinets in the kitchen then you must not use giant stair ladders, right? You simply need the best step ladder for kitchen which will be the perfect fit of your task. Hence realizing the type of job you are about to perform is one of the most important factors.
Use safety gears like ladder stabilizer and levellers to prevent slipping.
Find high quality ladder with anti slipping mechaninism installed in it. In this case you can choose anyone from our list. If you wanna read more about ladder safety then visit this page.
Conclusion
We cannot always be there to fix the lights, clean gutters, or repaint walls for our elderly. What we can do for them, on the other hand, is to ensure they are safe at all times. The best step ladders for the elderly are our best shot at ensuring our seniors are safe while they are performing handy jobs around the home. Safety step ladders for seniors should be checked for cracks and weakness before the elderly use them. All the safety ladders for seniors that we have reviewed above meet all the safety standards prescribed. So, what are you waiting for? Get the best step ladder for the elderly today!