High ceilings are the toughest place to reach in your home. Once in a while, you will notice that dust or spiderwebs accumulated on the ceiling or it's just time for repainting. If you don't want to call your handyman for these reasons, then it's time to get up there on your high ceiling. So, you definitely need the best ladder for high ceilings.
High ceiling ladders are a lifesaver! These ladders allow access to a high ceiling that would otherwise need a lift or scaffolding, which are very costly.
We have put together the 9 best indoor ladders for high ceilings in the market right now for you to choose your convenient one. So, without any further ado, let's dive right in.
Top 9 Best Ladder for High Ceilings [Reviewed]
1. Little Giant Ladder Systems 12026 RevolutionXE
The RevoltionXE multi-use ladder is one of the best indoor ladder high ceilings. The ladder comes with unmatched stability as it employs the use of a quad-lock hinge system. It also has wide-flared legs with rubber feet for stability anywhere, including uneven ground. It's also made with heavy-duty, high-quality material.
The ladder system can be used in different sizes as an a-frame, extension ladder, scaffold system, and a 90-degrees ladder. You don't need another ladder for your handy jobs. You can reach some of the toughest areas with his ladders, including your high ceilings.
2. Little Giant 12022 Revolution Multi-Use Ladder
There is no high ceiling that is inaccessible when you have a 22-foot ladder at your disposal! The little giant revolution ladder ensures maximum stability while steel, ensuring you get unlimited access to your high ceiling. It is the best ladder for painting high ceilings, changing bulbs, or just doing general cleaning.
It also comes with wide-flared legs, which are designed with rubber feet for safety.
Little giant revolution ladder also serves as a multi-use ladder that can be transformed into five different scaffolding positions, a-frame, extension ladder, and 90-degrees ladder.
3. Werner D6220-2 Extension Ladder
The Werner extension ladder is a production of one of the best manufacturers in the market. The ladder is built for safety and durability. It has a Type IA duty rating, which allows this ladder to carry a maximum of 300 pounds. This ladder can carry almost every adult.
Guaranteed safety? This ladder for a high ceiling is 20 feet long, allowing you access to every corner of the ceiling. It is also easily extendable for ease in use.
4. Little Giant Ladders 10121 Skyscraper Step-ladder
If you are scared to death to go on an extension ladder, you are not alone! The Little Giant Skyscraper ladder has got you! The ladder can reach anywhere on your ceiling and further services for your staircases and gutter cleaning.
If you are planning to clean your gutters then don't go with any conventional ladders, we recommend finding a special one that is built with special care. You may want to check out our handy reviews on the best ladder to clean gutters.
5. Louisville As1020 Ladder
The Louisville as1020 is a type IA ladder meaning it can carry a maximum load capacity of 300 pounds. The ladder can bear the weight of an average adult going up the ladder, including the tools.
To meet the safety standard requirements, this Louisville ladder is constructed with aclidinium body and feet, which are attached with rubber treads. You can comfortably use this ladder anywhere indoors and even outdoors on unequal grounds. The rungs are also designed with spreader braces.
6. Little Giant Velocity Multi-Use Ladder
Looking for a high-ceiling ladder that can double up as a ladder for other chores such as cleaning gutters? The little giant velocity multi-use ladder is the best option.
With this ladder, you can also enjoy maximum stability. It is a designed dual-pin hinge and a palm and hinges system-triple locking hinge. It is also designed with wide-flared legs for stability.
The ladder can hold a maximum weight of 300 pounds and can be used as a two-person ladder. Reach your high ceiling while still taking safety into your hands with this ladder.
7. Tacklife Multiuse Ladder
Tacklife multi-use ladder is another prosing ladder that offers 17 feet of length to reach your ceilings. The ladder can be used as an a-frame, step-ladder, wall ladder, 90-degrees ladder, and a scaffold ladder.
The feet are not only wide-flared, but they are also designed with non-slip rubber making the ladder suitable for both indoor and outdoor use.
8. Werner T7416 Fiberglass Ladder
If your high ceiling is around 18 feet high, the Werner t7416 ladder is suitable for your cleaning and painting needs. The ladder is a type IA that can support up to 300 pounds.
The ladder's rungs are also double rivet to support weights. What we love about this ladder is that it's non-conducive protecting from electrical hazards.
You can set your ladder on uneven ground, indoors or outdoors thanks to the rubber feet which prevent slipping.
9. Little Giant 10126lg Ladder System
Little giant ladders have proven to be the best year after year. This ladder can be used as an extension ladder or a step ladder. As an extension ladder, it can be extended between 13-26 feet while it can be used as a step ladder at the height of up to 12 feet.
The ladder also has a triple-locking system for safety and stability. We love that this ladder comes with glide wheels for easier movement.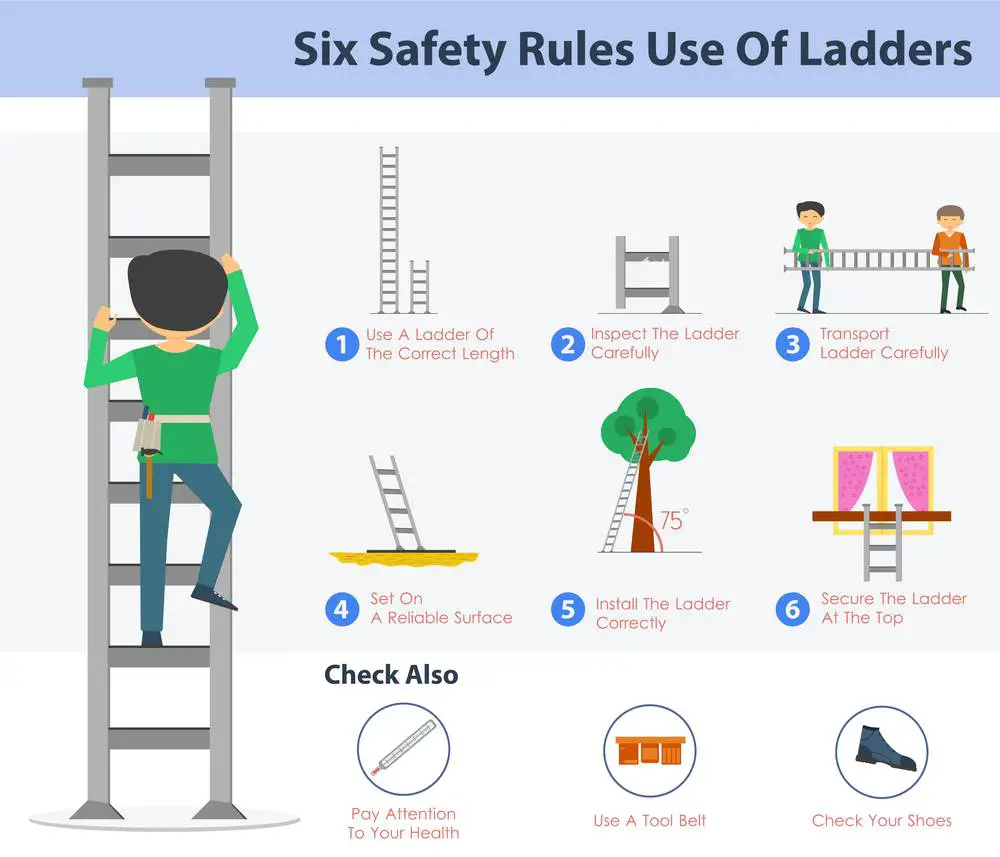 Why should you use a high ceiling ladder?
While there are other methods, such as scaffolding, they are costly. I mean, why would you need to spend a fortune on a scaffold while you only need to reach your ceiling once or twice in forever?
Also, they need you to assemble them from scratch, and they can be challenging to use if you are not a pro.
So, why should you use the best ladder for high ceilings? Below are some considering points-
Safe to use
Every time you want to get on a ladder, the first thing on your mind is your safety on ladder, of course. Traditional ladders are precarious to use when you want to get up there for cleaning or painting those high ceilings.
A conventional ladder is not long enough, and you will be forced to stand on the last three rungs, which is very dangerous and you may face ladder injuries anytime. High ceiling ladders are very long and easy to use. They guarantee access to the ceiling without straining or risking your life.
 They provide more access to high ceilings
The best high ceiling ladder is designed to be adjustable to whichever height you want without ever having to use the top rungs. These ladders, therefore, allow you to work at the angle you most feel comfortable and provide more reach to different parts of the ceiling.
High Ceiling Ladders are Easy to use
Think about a scaffolding system. It is tough to assemble unless you are a pro, of course. To make things worse, every time you want to move to a new position, you need to assemble it again!
High ceiling ladders, on the other hand, are as easy to use as a, b, c. Using a high ceiling ladder is as easy as it gets.
Apart from being adjustable to a different height, you can also move the ladder anywhere you want. They are build lightweight and some with wheels for ease when carrying around.