When you want to grab something from a high shelf or cabinet, stepping on a chair is not wise. The seat can crumble or slip around under your weight. That's why, a step stool is a simpler option if you don't have the time to set up a step ladder. Step stools are designed to be used by people of all ages, from kids to the elderly. The short ones are usually designed for the elderly and young ones or for minimal height. So if you are planning to buy a safety step stool with handle then don't forget to checkout our handy list of the 7 safest step stool with handle.
Furthermore, step stools are also designed with additional features depending on your various needs. For instance, some are fold-able for storage, and others come with a carrying handle, while some are designed with dual steps.
Hence, there is a high chance to buy a wrong step stool if don't know what's your actual need. So, without any further ado, let's jump on our top picks. We have analyzed them in depth.
1. Adjustastep Double Safe Deluxe Step Stool
The best feature of this step stool is that it comes with dual handle making it a perfect medical stool. The step stool is also adjustable in height. You can find a comfortable height depending on your needs without a hassle.
In addition to that, the double handles also provide psychological feelings of more safety than using your regular step stool.
This safety step stool is also designed with non-slip hand-grips and a wide platform pad. The pad is also designed with a slip-resistant material to prevent skidding and falling. The foot-pads also prevent the feet of the step stool from moving under your weight.
2. DMI Step Stool
DMI step stool with handle for elderly and seniors comes with features that guarantee the users security. This heavy duty step stool with handle is designed to help you reach items that are out of reach with minimal hassle. The matting of the step stool is non-slip to prevent you from slipping while grasping your objects.
The step stool also boasts of a 300-pound weight capacity. The convenient handrails are also non-slip to provide safety during use. The feet of the stool are also made with plastic feet to prevent slipping.
3. Cosco 2 Step Stool with Handle
Looking for a step stool that can help you reach high cabinets and change bulbs while remaining safe? The Cosco two-step stool with handle is what you are looking for!
This step stool is ideal for accessing cabinets, closets, and kitchen storage. You can also use it for any simple cleaning chores that require height assistant.
In addition to that, this foldable step stool with handle also comes with extra-wide steps that are designed with anti-slip material
On top of that, It's super lightweight for easy carrying & the handle facilitates easy moving as well as safety. The rear legs are also supported with rubber feat or safety.
4. Leekpai Step Stool
The Leekpai step stool is another great step stool with handle, especially for heavy users. This step stool is designed to carry a weight of up to 300lbs. It's made of sturdy steel for durability and excellent performance.
The handrail is also designed to ensure you are safe when climbing on the stool and during use. The simple yet effective design of this step stool will ensure that even kids can get toys and dishes on their own.
This medical-grade step stool is also suitable for post-surgery patients. The steps are non-slip, and the feet of this step stool is designed with rubber feet, so it never slips.
5. BCC Solid Hardwood Bench Step Stool with Handle
If you are looking for a stylish step stool with ladder, look no further! The BCC wooden step stool with handle is the perfect definition of style and functionality.
Also, this one is designed with a wide platform for the security of the user. The feet are also designed with felt protectors to prevent skidding, so this step stool won't scratch your floors.
The handle is also designed to be very long to reach the height and still the handle does not bend around. This stool is created using North American solid hardwood and can withstand a weight of up to 250lbs.
Additionally, the step stool is available in oak and golden finished with a premium catalyzed finish, so the wood does not turn into yellow or flake with time.
6. Etna JSNY Handy Support Step Stool with Handle
The etna handy support is a very simple step stool with handle. It's convenient as it comes in handy when you need to reach small heights in your kitchen, bathroom, or office.
This stool is designed with a long handle, so you don't need to bend to reach it. One top of that, the handle is designed with foam and rubberized to prevent slipping.
Additionally, the feet of the step stool are designed with anti-slip rubber. They are also widely spaced to prevent wobbling. The non-slip step also provides added stability.
The step is also very wide to ensure the user can step comfortably without the worry of toppling over. It is also very sturdy.
7. Nova Step Stool
Nova step stool comes with a removable handle for convenience. This safety stool is designed to give the user a safe step when they need height to reach higher places.
The extra-spacious platform comes with a non-slip material to remain safe in the kitchen, bathroom, or office. The feet of this step stool is also designed with rubber tips so the stool cannot skid under you.
Furthermore, the handle is designed to provide support and can also use to balance while climbing, especially for the elderly.
Nova step stool comes assembled for convenience and ease of use. You can, however, remove the handle for storage purposes. The step stool is also lightweight to facilitate carrying around. It can carry a weight capacity of 300lbs.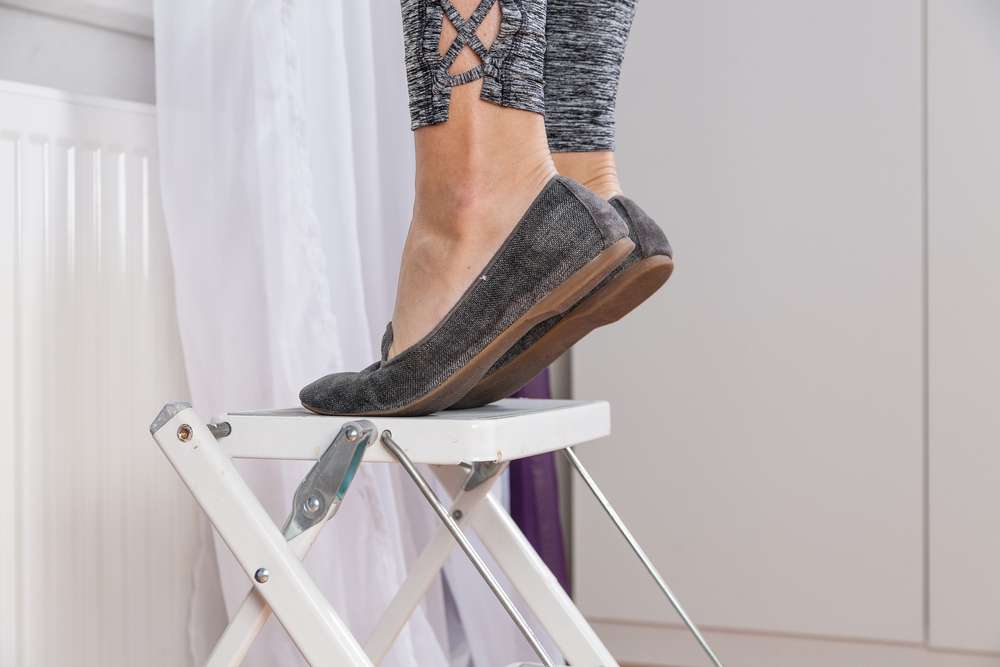 Conclusion
A safety step stool with a handle is necessary, especially in a home with elderly, sickly seniors and toddlers. These tools are also very affordable and come in a variety of sizes, shapes, and designs. If you wanna educate yourself about stool or ladder safety then read our handy yet in-depth article on ladder safety tips.
Hence, ensure that you pick a folding step stool with handle if you are short on space.
A two-step stool is also a great idea if you need to get access to a moderate height. The products we have reviewed here are a great place to start. Try a safety step stool with handle today with full confidence. If you still wanna read more about step stool safety then visit this link.